What traditional Christmas decoration is actually a parasitic plant?
I don't actually know, I feel like I've been told this in the past though. Too the Google! Oh my goodness, it's Mistletoe!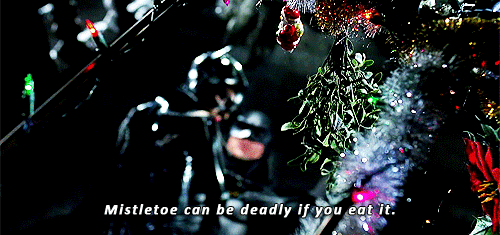 Name something about this holiday season (whatever version you may celebrate) that most people like, but you dislike?
I think just liking Christmas?Hahaha…Maybe it was just the mood this year. I have to be honest, I don't "dislike" but I don't consider New Years, to be a "New Year" I feel like our own birthdays are a "new year". I know that it sounds weird, and I get it's a new Calendar Year. I like to do the "refreshing" new year, new me. On my birthday.
What's your favorite – or least favorite –  song sung traditionally at this time of year?
There's actually an entire Christmas cd that I love and loved for years. If you know who Boney M is (Ra-Ra-Rasputin) In 1986 (I believe) they brought out a whole Christmas CD and I play the whole cd every year!
And the last one ———>  In the song "Grandma Got Run Over by a Reindeer," what "incriminating" evidence was found on Grandma's back?
Oh my goodness, Christmas is quite dangerous!lol…I had to Google this one too because I don't even think I've heard of the song before. Is it Claus? Or "Claws"?
Finally:    What would you like to share with the world, if time or cost were no object?
Without a doubt, kindness. I sometimes feel the world is sorely lacking that these days. I got into an argument with someone I use to respect today. They actually think Trump saying they're taking the US Troops out is going to happen. Not only that though this person does not seem to care that Trump doesn't actually seem to have a plan. Then, for some reason, this person turned it into a whole Liberals just don't want the Troops home? LITERALLY NO LIBERAL IS SAYING THAT! We are saying that there needs to be a plan. History has not be kind to the people who are suddenly taken away, people tend to get more aggressive. Not "Oh, okay then, we'll just let you leave".