The Sunshine Blogger Award Rules :
Thank the blogger (s) who nominated you and provide a link back to their blog.
List the rules and display an award logo on your blog.
Answer the 11 questions the blogger (s) asked you.
Nominate 11 other bloggers to receive the award and notify them by commenting on any of their posts.
Ask the nominees 11 new questions.
Thank you to Life Lessons Around the Dinner Table for tagging me in this tag. A beautiful writer with a beautiful soul…Hope that doesn't sound too creepy!lol
Kristians Questions:
What fictional world would you like to explore if you could? Without question, the world of Tolkien. Kristian and I were talking about this. I like Harry Potter, but I am a Tolkien girl. It's just more beautiful to me. I want to be an Elf, sorceress.
What is your idea of a perfect day? Waking up on cool on a Spring morning, at my leisure. It also depends, some days the perfect day is doing nothing, other days, having a good clean out. A nice shower. Probably a combination of reading, playing games and blogging. Eating nice home cooked food, without me making it!
If you could be a professional athlete in any sport, what sport would you play? I have always wanted to be really good at ice skating. I think its been ever since I saw a movie from my childhood called "Fire and Ice". It's an ice skating movie with Dean and Torvill. I love it! I have it on DVD , but you can't skip chapters and it's really hard to get too.
What is your favorite joke? I'm not sure whether to admit this or not, but I actually enjoy those Christmas cracker jokes.
What movie(s) can you watch over & over again? Moulin Rouge, Phantom of the Opera, Beauty and the Beast, Robin Hood:Men in Tights, Transformers (all of them), The Mummy 1 and 2,  and any of the Rush Hour movies.
What are your New Year resolutions, and if you don't have any, what are some long term goals you hope to achieve?
Is there a meaning behind your name? If so, what is it? Not so much a meaning, but I was named after Lauren Bacall. A Golden Hollywood Era actress (think Bogart and Bacall). There is an actual meaning behind Lauren it means "Laurel of Wreath", but I wasn't named for that.
If you could master one skill, what would that skill be? Non magic skill – Driving well (lol). Magic – time. More like a click of the fingers, I can here to there.
What is your favorite Disney movie? It's between The Lion King, Beauty and the Beast and Pocahontas.
In your opinion, what movie has the best soundtrack? It'd have to be between 'The Lion King' and 'Lord of the Rings.' They're so different and they are beautiful for different reasons.
What snacks can you just not live without? I've just discovered some new ones. There these chips called "Pop'd Chips" and I LOVE their sweet chilli and sour cream flavour. They are really light and I could very easily eat an entire packet in one go. Actually all the snack type things I've been really liking lately are sweet chilli and sour cream flavour.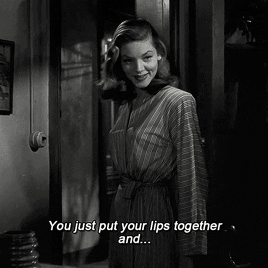 11 Nominees
(Please don't feel any pressure to do so and if I didn't nominate you, but you still want too do the questions. Feel free!)
My Questions:
What fictional world would you like to explore if you could? (I"m going to keep this question, it's such a nice question).
Are you more of a beach, country, suburb or city person?
When it comes to charity, how do you like to do it? By "do it" I mean do you like to participate, or do you like to give instead? (With the Australian bushfires, I've noticed that there are so many different ways to help).
Do you know where your last name comes from? If so, where from?
My partner is currently looking for his first home. If you had unlimited money, what would you want in your house?
If you cook, or your partner cooks for guests, what is a favourite meal you like to cook or have cooked for others?
Do you want to go on American Ninja Warrior?
Is there a non-sport, non-"reality" tv show that you are obsessed with, which ones?
With everything that's going on, what is ONE thing you wish you could change, to make it a bit easier for everyone at the moment?
Do you have a favourite superhero, or someone you think, who is a real human being, who is a superhero? (That was a lot of comma's)lol.
If you accidentally walked into a group of lions, would you be this calm? (Watch from 1:20).