I decided to do a get to know me thing on my birthday. I've gotten a few questions from all around the place. I just didn't like some of the questions, some had a lot and I wasn't going to do all of them…One had OVER 300! I thought to myself, I hadn't done one of these for a while now, so I thought that what better day to do one than my Birthday. I'm going to go with 29, because that's the date of my birthday.
Some are from: 100 Ridiculous TMI Tag Question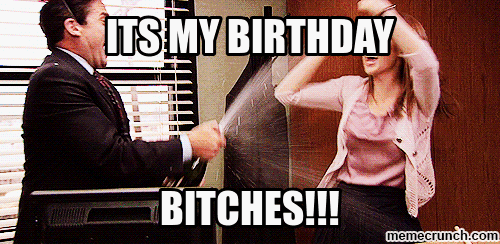 Are you like your zodiac sign suggests that you should be? I actually just wrote a post about this on Friday, see it here.
Have you ever been betrayed by someone you care about? Oh of course, who hasn't been? The trick is to truly, not necessarily forgive them, but just to forget about them.
Have you ever had a crush on a teacher? … Yes … We had these two gorgeous teacher aides came for one semester. I was very "famous" for having a tonne of crushes at the same time, but never brave enough to say anything. Not that I would have with a teacher, when I was a high school student.
If you could choose one Disney prince to marry who would you choose? It would have to be Aladdin. I used to really like Prince Eric from "The Little Mermaid", but then Aladdin came along.
If you could choose one Disney princess to be your best friend who would you chose? Without a doubt, it'd be Belle…If I can't be her, then she can be my best friend.
What is something you like to do when you are sad? I watch comedies or those fail type video shows. I know other people's pain shouldn't be funny, but sometimes it just is,lol. I pretty much will watch anything that makes me laugh.
If you could have any job, what would you want to do/be? I don't know if this is a job, but when you get the "golden ticket" it's a very lucky job. I would love to be a writer, a professional fictional writer.
What current world events are really troubling to you? I really wish I hadn't written this question, mainly because the list would be a lot shorter about what isn't bothering me right now.
Which animals scare you most? Why? Octopuses…They are way to intelligent and can fit into the tiniest of spaces!
What do you consider unforgivable? If someone were to hurt my family or fur-babies or a very good friend. Especially if you were to hurt them with malice and intent.
What is the strangest thing you believed as a child? This is so embarrassing to admit, I would not eat red apples because I believed a particular movie.
What flavor of tea do you enjoy? I enjoy three and I usually have them stocked up. One is just your usual earl grey type tea. The other is chamomile, I really do believe that it keeps me calm. The third one is one I just discovered a couple of months ago. It's called chamomile and spiced apple. It reminds me a lot of the spicy of Christmas. It really makes me happy.
Do you remember your dreams? I usually actually, even if it's only a lot of the dream, or one bit. A few years ago, I actually used to write them down. I should start doing that again.
Who has left the most impact on your life? I'd have to say it'd have to be my Great Grand-Father (my Grans Dad). He passed when I was about two years old. We were very close, but it's amazing how…what 33 years later…I'll find things that I'm interested in, that he was studying. When I was in Year 12 at high school I became very interested in Ancient Greece, Rome etc. Then a few years after high school, I found a notebook written by my Great Grand-Father and he was learning Greek just before he died. He wanted to travel there.
What is good about how you are living your life right now? Honestly, the only thing that could be any better is getting more hours at work. I get on well with my whole family, my partner is the best partner I've ever had. I may have lost some friends over the last couple of years, but I feel like the friends I do have are more healthy and I have a lot more in common with them.
Are you named after anyone and what does your name mean? I am named after the iconic Lauren Bacall. Lauren may be a given name or surname. The name's meaning may be "laurel tree," "sweet of honour," or "wisdom".
Nicknames? I have a few. I'm actually one of those people who are known more by their nicknames than their actual name. Lolly, Lolsy, Lol, Lols (people used to call me Lol or Lols before it was even a 'thing') My favourite probably though is Little Poppenjay. My Grandpa used to say when he'd see me "hey, hey Poppenjay, how you've had a lovely day" =D I miss that.
What's your favourite candle scent? I have these black candles, that are from a Australian store called "The Reject Shop", and I have bought a LOT of them, but have yet to burn any of them. They just smell SO good. The scent is called "Moonlight Mist" and the company is Madison French.
What's one thing you own that you should probably get rid of, but just can't? I have this really old t-shirt. It's a Hanson t-shirt…Yes, mmmbop Hanson. It's really loose, it's got holes and I have no idea how they got them. I really should throw it out, I don't even wear it anymore! I don't even really like the people who got it for me and I've thrown out other shirts for less!
Which song do you sing when you are by yourself? It's always changing by the moment. Lately though it's just the one sentence, Taylor Swifts "Look what you made do".
What is the least favourite thing about yourself? Overthinking. I am a terrible over thinker. I'm trying to do stuff at the moment to stop this, but it's a life long thing. So it'll be a slow process.
How is your relationship with parents? I think that like with a lot of people, adored them when I was little. Disliked them muchly during teenage years and now it feels like I can friends with them. Maybe not much all the time with my Dad, if he just stopped the drinking it'd be great!
If money were no object what would you get for your next birthday? I would get a comfortable house and make sure it was fully paid off. Is that too lame though?lol
Do you consider yourself a good cook? Well I can cook to survive, most of the time. Every now and then I'll get a "kick" and want to cook something a little bit more special.
Did you have any favourite childhood films? I had two that I watched obsessively, I bought them on DVD as an adult. I don't think they're every going to be on Netflix or somewhere like that. It's interesting because they probably weren't really "kid friendly" films. One was "The Red Shoes" starring Moira Shearer and the other was "Beatrix Potter Ballet" film. The reason I don't think Beatrix Potter is 100% kid friendly, there's the whole scene with the Owl catching the squirrel and taking his tail off (you don't see that part, but you know what's happened).
Which day is International Dance Day? Why, I do believe that is today!
What's your favourite thing about yourself? As much as I hate my brain, I also love it. As much as the reason it creates my anxiety, it's also the reason it fights it off. It's the reason why I'm not a raging psychopath too,lol
What would you tell your younger self? Travel to America, but don't think he is going to be the end all of everything. Make sure that you continue making a life for yourself at home.
What are you hoping for in the year to come? I'm hoping for a more permanent job, maybe some bells ringing…of the wedding variety,lol…I feel generally very lucky in my life, it's just the lack of permanency of the job that bugs me. Hoping to start up crafts and something on the side again. I think I need to be doing something, rather than thinking about money and job woes.