I have been getting SO frustrated with all these Republican "women". Conveniently saying that they remember EVERYTHING from when they were assaulted. (None of them have reported it to the police) So that's why they don't believe Dr Ford. It makes my skin literally crawl.
All these "people" who are like "Well I did it this way"…GOD they sound like my ex best friend when she said it was my fault that she had all these horrible stories to tell about her bf BECAUSE and I quote "When I'm single I don't like hearing how happy my friends are in relationships" So I must be like that? (I'm not, I'd rather my friends are safe and happy than abused, just who I am.) This might shock some of those "people"…NOT EVERYONE IS YOU! It literally makes my skin crawl.
That's why in the dictionary there are word likes … Empathy, Sympathy, Listening. Yes, there are also words like Self, Selfish, Narcissistic. Which ones do you want to follow?How about people use more positive words, more actual arguments? I know how hard it is for people who have a narcissistic personality to think it revolves all around them.
Let's look at situations from other points of views instead. Let's start listening to what others have to say…How hard is that?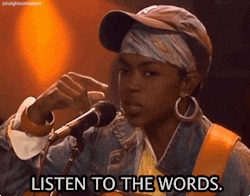 Rather than not listening and hearing what happened to you, listen to what the other person is telling you.
Let's turn this all around! Let's start the talking again.