So I am stupidly excited for the Lion King live action film. I've only been this excited for the Beauty and the Beast live action film. Especially at this time there doesn't seem to be that much to be excited about. So I am extremely aware that I am a little precious about the film.
Which means I got into this massive debate with this person who also loves Lions. Her issue was though that she didn't feel like the animals were expressive, in the trailers. To prove her point she used a gif of Aslan. As I pointed out, Aslan is a mythical Lion to begin with, and I don't find him that expressive to be honest. I love Alsan in the movies, but it's not like he's smiling a whole lot, hes completely gorgeous. But still a mythical Lion.
…Do you know what I mean?lol Even though he's a Lion, he's supposed to, in a way, also represent Jesus. So he's not a standard Lion.
I also point out though, she's basing it on a minutes trailer. With a quick succession of bits from the movie. She kept posting of pictures of Lions being all head butt and lying with each other. I wonder if she realises how long it takes to get pictures like that. I absolutely believe that animals have expressions and feelings, but they're not easy to get.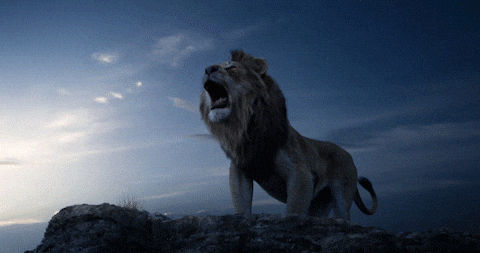 The top gif is Aslan and the bottom…I'm assume is Simba? Possibly Mufasa. I don't see that much of a difference. Of course Aslan is going to be Grander, he is pretty much Jesus Christ. It's like people complaining about how Scar looks in the live action. If you've seen a sort of "lowly" Lion, it's what Scar looks like. Too me Scar looks like a Lion that is on the outs.