https://mandyhale.com/2018/10/31/the-you-are-enough-30-day-blogging-challenge/
Day 15: Also in Chapter Eleven, I talk about the power of SURRENDER. Share a time when you had nothing left to do but surrender, and how it impacted your life to just let go and let God.
I feel like I'm starting to repeat, but the night I ended up in hospital. I had been wanting to see a Doctor about my anxiety for a long time. I literally had to surrender and finally go.
Day 16: In Chapter Twelve, I share about how my group therapy family became like family to me. Talk about a friend or friends who are like family to you…and how they remind you just how ENOUGH you are when you've forgotten.
Despite losing my ex best friends last year (we all called each other "sisters"). There was a time when I refused to call friends, family, ever again. However, as time has gone on I've let that go and I started to do it again. There's only a couple of people that I still do it for. Some people let me down after that whole incident too, that had nothing to do with those people. There was one girl who I'd call my baby sister and she was sick all the time. Myself and a couple of others would stay up all night as she'd go on and on about how bad she'd feel, and we believe her. However, once she got better and they figured out what was wrong, we've not heard from her since. Not even a thank you. Since then, the other girl who was even kinder than me has lost her brother and her father in a only a few months. Still not a peep!
However, there are still people out there who have not forgotten me. Which is nice. I get forgotten a lot, as sad at that sounds. Some times it's really good, then people aren't looking at me. It's not about the quantity, it's about the quality. Calling friends, family, have cut down drastically and it's great! Especially when it seems so less fake now.
Day 17: Also in Chapter Twelve, I talk about how sunflowers are called sunflowers because they literally "turn toward the sun." Talk about a time in your life when you turned toward the sun and chose the light when it would have been easier to settle for darkness.
It has to be the time after ending up in Hospital. I sometimes have "bad" days and by that I get so frustrated by how I can now tell how much my brain has changed. It would be so much easier to just be "angry" and not take any control over myself. I know I could be anxious all the time, if I wanted. Just stop and be anxious. But it's not worth it at the same time. I'm still me, I just have trouble going into places now, that's all. It'd be easier to be angry and drama driven all the time, I just can't and I don't want too…Sometimes it is a battle, but I'm up for the challenge! I also know though when to stop myself.
Day 18: In Chapter Thirteen, I talk about a favorite movie that has had an indelible impact on my life. Talk about YOUR favorite movie or movies that help you reconnect with who you are.
Well if you've been a reader of mine for a while now, you'll know that the movie I love the most are generally all of the JRR Tolkien movies. It's the movie I watch when I need to get lost and just remind myself…That there is some good fighting for in this world. I cannot watch it while other people are around. The only way I can watch it with other people around is if it's on tv, and then there are commercials anyway. That is MY movie, if that makes sense?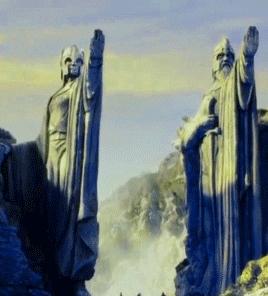 Day 19: In Chapter Fourteen, I get "An Unexpected Apology." Share a time when YOU got an unexpected apology from someone, and how it impacted your life.
That was in the last couple of years actually, and it was all thanks to Facebook! When I was in Year 6, I was bullied pretty badly and someone who had once been a best friend of mine was one of the bullies. Pretty much my whole class gave me a hard time. I had never been "hated" before. I wasn't a spoilt princess, but neither was I hated on. So it was such a shock to me.
Come to 2017 and one of my old classmates sent me a random message on Facebook and apologised. Even though they weren't the worst of the bullies, they sort of stood more to the side. Apparently apart of AA, they had to reach out and apologise to someone they've hurt and still feel bad about hurting. It did shape my life in the belief that people do understand what is wrong and what is right. It also made me realise how much I had learnt in that time. How I've handle bullies since then, they weren't the last, but hopefully now…No more bullies.
Day 20: In Chapter Fifteen, I talk about losing someone precious to me, my grandmother. Talk about someone you've loved and lost, either to death or circumstance…and how loving them made you a better person. 
As I mentioned in my last challenge, losing my Grandfather (my mums Dads) was probably the biggest lost of my life. No breakup, not even when my parents split up. Apart from losing my first dog. I cried when I lost my other pets, but I still mourn her. I don't even like thinking about my Grandmother dying. My Pa loving me made a huge part of who I am today. Let me put it to you this way. This is the kind of man my Pa was.
My baby brother is a Drag Queen, he's pretty well known in Melbourne, but he started in Adelaide. My brother also makes a lot of his own and other Drag Queen outfits. My Pa would sit there with my brother talking about his sewing, because like my Pa and his Carpenter type skills, they are both freakishly good at it. Perfect lining, they just know how to put something together. Once my Pa had past away, my Brother made a dress for his Drag persona, out of my Pa's ties. I'll have to see if I can find the picture. My brother hardly talks to my Dad, with good reason, but he'll make a gorgeous drag dress out of my Pa's ties.
Day 21: Also in Chapter Fifteen, I talk about falling for a "lost boy," someone who was too broken and too selfish to ever be able to love me like I deserved. Talk about your own experiences with a Lost Boy. What did he teach you? And how did you learn and grow from finally letting him go?
Oh my goodness, as sweet as all my ex's are (I don't hate any of them, I hate what they did to me, but not them…If that makes sense?) I think they were all "Lost Boys". Each one taught me something different. It's very much a "Thank U, Next" situation. I think though even with the worst of people, you still learn something from them.
Uploaded by: Ariana Grande`
Premiered on 30 Nov 2018
One taught me love
One taught me patience
And one taught me pain
Now, I'm so amazing
I've loved and I've lost
But that's not what I see
So, look what I got
Look what you taught me
And for that, I say
Thank you, next (next)
Just wanted to add here as well One taught me friendship