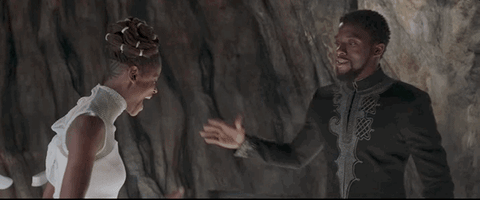 *I wasn't sure how many of you would have seen Black Panther at this point so I wanted to wait a bit to write about it. I have feeling I may talk about some spoilers.*
I'm not sure how I can write this without bias, because there was pretty much nothing that I didn't love about this movie. I'm not really familiar with a lot of the superheroes and the comics. There's only been a couple of the superheroes where I've read some of their comics, and Black Panther is not one I've read.
I am SO regretting that now! It also means that I can't really make any fair comparisons between the two and how fair the movie was to the comics.
There really isn't anything bad I can say about the movie…Everything about it was pretty perfect to be honest. They casting was spot on, the music was thrilling (I wanted to get up and dance…I love a good drum!) The plot, there was no real "quiet time", it flowed perfectly. Some of the quotes I can see becoming extremely popular.
If you want to see a movie that you'll love for both the superhero aspect and modern days issues…You will love it. I don't if it's because I am aware, but the only reason would feel uncomfortable honestly seeing this movie is if they are not with people of colour and some hard core facts. Then again, I don't know why someone with issues with poc would see this movie anyways?
Family – What I loved the most about this film was the family dynamic. They weren't just a Royal family and that was it. They were FAMILY. It is fantastic to finally an African American family not only being represented as Royal (and fantastic royals at that) but also as a family that clearly love one another. Rather than a run away father whose skipped out on his struggling family. Father and Son have such a respectful relationship, even when they are disappointed in one another, even when they don't agree. My heart literally broke when T'Challa (THE Black Panther) realised his father is not perfect. They still LOVE each other. They understand not everyone is perfect.
Characters – I will say this one of those movies were they got the casting exactly perfect. Even the "bad characters" are perfect. Even Martin Freeman was perfectly cast as seeming so English and so white (it's honestly the only way I can describe it) he was so on the outside. As a white girl watching the film, I got it. I have seen some people complain because they thought Martin Freeman wasn't "black enough" and it made him look inferior, but I honestly believe THAT was the point of his character. In a good way! Of course Andy Serkis always makes a good bad guy. I felt like Michael B Jordan was "bad", but he's the type of villain you will feel perfectly sad for, and so one should!
Music – I LOVED it. I believe that music can change your mood and the way you feel, and I wanted to dance in the movie theatre so much in this film.
"Costumes" – I put that in quotation marks because the clothing were not costumes. They were beautiful, colourful and glorious!