So far I am starting off feeling 2020, actually pretty alright. Despite all the terrible things,lol
The Rules
Thank the person who nominated you and provide a link back to him/her.
Answer 11 questions provided by the blogger who nominated you.
Nominate 11 other bloggers and ask them 11 new questions.
Notify the nominees by commenting on one of their blog posts.
List the rules and display the Sunshine Blogger Award logo on your blog post.Thank the person who nominated you and provide a link back to him/her. (Check)
I was nominated by the lovely "The Wee Writing Lassie" (head over and check her out!) I would really honestly like to thank her, because she has come up with some amazing questions! Questions that did make me happy =D I am completely honoured that she nominated myself.
My Questions
Who is your favorite author? I don't know which list would be shorter for me. Every year I end up reading a book from a couple of new authors. I am one of those people who when you see "recommended" I put it on my tbr list. Interestingly, haven't found a author I haven't really liked yet.
If you could rule one of these five fictional/mythical lands: the Galaxy of Star Wars, King Arthur's Britain, Westeros, Middle-Earth or Discworld – which one would it be and why? Oh gosh, that is a really good list. My top two would be King Arthurs' Britain or Middle-Earth. I think, by process of elimination though, I would want to rule in Middle Earth. Because isn't Middle Earth, just a better (haha) version of King Arthur's world?
If you had the powers of a god, what would you do with them? The first thing I would do is come to Earth and give those "Christian Conservatives" a piece of my mind! Stop using our friends name is vain, when they're not even Christ-like to begin with!
Which famous historical figure would you have round to dinner? Oh, this like the first couple of questions!lol. There are so many choices! I think though I would have to have W. Shakespeare, I found out something recently, that has made me think that he wasn't just a great writer. I found out that at a time where most people were writing about the Jewish people, kind of like Hitler would. Shakespeare was writing about the Jewish people and how OTHERS were treating them. How they had no problem asking for money from the Jewish people, but would call them "dog" and spit on them in the streets.
You've been abducted by aliens, and they demand that you take them to your leader – who do you take them to? Well, if they are nice aliens I am taking them to Adern and Obama. If they are more the "probing" type, Johnson, Trump, Putin and Morrison.
If there was a film made of your life story, which famous actor would you want to play you? Living or Dead? Living, I would want it to be Drew Barrymore. Some may say that I look more like Natalie Portman, and I wish that I looked more like Liv Tyler. However I feel that Drew Barrymore is more "me". Well she's more me now, than when she was younger. If someone could come back to life, it'd have to be Audrey Hepburn.
If you were trapped in a historical time (presumably your time machine has malfunctioned) what period would you be most likely to survive in? I don't think I could honestly survive any other time that now. I'm too "weird" for the other times and I don't want to be any other way.
What is your favorite kind of weather and why? I love Spring type weather, it's not overly hot like Summer. It does have a warmer wind, unlike Winter. You can wear a dress and a skirt, if you want. You can put it with a cute jacket though.
Chocolate or Caramel? Why not both?lol…I think I am more caramel than chocolate, but at the same time. Sometimes caramel can be really rich and sickly.
If you could turn into any mythical creature, which one would it be? As my Gran calls me "as rare as the Unicorn, is the maiden of fair spirit". A Pegasus Unicorn creature. As much as I would love to be a Dragon, they are huge and they tend to only need to eat meat.
Who are you most grateful to in your life? I am grateful for literally everyone in my life, even the bad ones. Each person is here to teach us a lesson.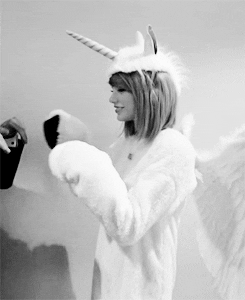 The Nominees
If you read this and you like the questions, please feel free to do this as well! Please, also check out the nominees blogs as well!
BereavedSingleDad
By Hook or By Book
Positively Devoted
Life Lessons from Around the Dinner Table
Sparks from a combustible mind
View from the back
This is my Truth now
The Little Mermaid
Amanda Cade
A Better Man
Jim Noonan – Living the Writing Life
My questions for my nominees (and others):
Do you have a book crush, and who is it?
Is there a music video clip that you wish you could have been apart of, and in what way?
Do you also make up random characters in movies? Like, as an example, you pretend that Lord of the Ring or The Hobbit has a "race" of Sorceress of women?…Not that I do that or anything. 
Which Myth or Fairy tale story is your favourite? From any era.
Do you have a favourite book series?
Do you prefer plot-based or character driven stories?
What is the best thing about Blogging for you?
What do you think makes your Blog, unique?
When you are fully relaxed and there are no chores (or even there are, but they're not urgent) What do you look most forward to, when you can relax?
What is a favourite recipes of yours? You don't have to actually make it yourself. 
What is something you are looking forward too? It can be anything! Dinner, a birthday, an upcoming event, a holiday.