Apparently Kanye West has trouble answering why he likes Trump SO much…
You know this guy…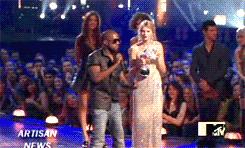 Seems to have trouble several times answering WHY he likes Trump…Even though he has actually been asked this question before. It should be THAT hard of a question. Even if he hadn't before, it's really not that hard of a question to answer, surely? The guy who said George Bush doesn't care about black people. The guy who has a statement for literally EVERYTHING…Can't talk?
I have never liked Kayne West, but damn, hopefully the African American community WILL care about his silence … My current pinned tweet on my Twitter account.
Dear @kanyewest The silence on a simple question IS deafening, your silence to a "leader" who dictates that NFL players HAVE to stand for the Anthem, while they die in the street by those who are supposed to protect IS deafening. Your silence IS your answer. #complicit #takeaknee
I should stop letting him get to me so much, but his silence IS dangerous!