Oh god, I am SO over entitled angry nerds!
For some reason, my partner decided to watch this guy who was rambling on about how the next Star Wars film had better make over $800 million and that the fans have warned them…Blah, blah, blah. Warned them…What?
Whatcha gonna do? Kill them? People are going to go and see these movies. They may not be as popular as the 70's but you know what? So they shouldn't be either! I think film makers are getting lazy these days.
But it just makes me angry that these angry nerds, do threats like that. Do they not even know how entitled they sound? I get not liking stuff, I don't even really any of the newer Star Wars, but I wouldn't go around saying "I've warned you". If you think you can do better, than GO AND DO IT! Instead of whining from behind a screen, go and make a screen! … So to speak.
I literally had to ask my partner to turn it off, it sounded so whiny!
The world is starting to and definitely feels like it's falling apart all around us and they are threatening film makers, because they wont go and do it themselves? At one point he was mad because he felt the last Directors (of course mainly angry at the female Directors *rolls eyes*) Rian Johnson and Kathleen Kennedy wont apologise…
…For what, exactly?
Just because you choose not like something, does not mean, angry little nerds, that you are then owed an apology? I certainly didn't expect after the disaster that was Star Wars: Episode III – Revenge of the Sith…I mean they made "Darth Vader" probably the most well known villain in movie History, a whiny teenager -.- Now THAT was a disaster!
Did I send hate though? No? Was I still able to tell people I didn't like it? Yes…Did I still go to the other films…Yes =D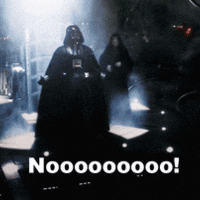 So too all those angry nerds…Make this the year or either put up…or it's time to shut up!