Come my fellow herd! Come and be "sheepish" with me!
Let's … flock … together and show others that there are humans out there,that do care about them.
Let's be … wild … and show these bigots what sheep can do together! I'm sure that those clowns don't know what we can do when put together.
(no animals were harmed…I'm assuming…That terrier is rather small).
I'd rather be a sheep, than "them" any day! Which one do you trust more?
So come at me, you bigoted, trump supporting, non-mask wearing, boot licking clowns!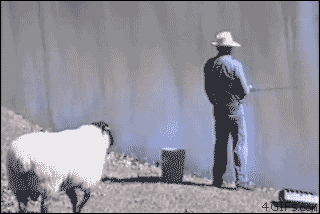 I'd rather be a sheep, than dead, a bigot or a trump supporter any second of the day! So why do they keep calling us that, like it's a bad thing? And aren't they just being a sheep, by not wearing a mask, because other people told them they don't need too? I wear a mask because the Doctors and Scientist told me too. I wear a mask because Trump said we don't need too,lol.