I finally got to watch Tolkien the movie with Nicholas Hault, Lily Collins and Derek Jacobi. I wanted to go and see it when it was in the cinema, but couldn't find anyone to go with. I should have gone to see it with my Gran. Not only does she love Tolkien, and was a Library manager. I also "pay her out"and call Derek Jacobi her boyfriend. Derek Jacobi plays Professor Wright, and it seems he's the Professor who helps Tolkien with language.
I really think, despite what Christopher Tolkien said. That JRR Tolkien would have loved the movies, especially the Lord of the Rings. The Hobbit, isn't as grand LotR and I don't totally hate Tauriel, but I get why it was not as good.
It's a lovely film though, it's mainly about Tolkien's life before The Hobbit, before the whole of Middle Earth. It explores through things, situations in his life. Situations in his life that more than likely inspired the world of Middle Earth. Tolkien went to fight in WW1 and a lot of Middle Earth is based on his time there. Hence, the Fellowships, the close friendships. Something that only people who have been right in the middle of War, would probably understand.
I am glad that I didn't pay money to see it, but I am also glad that I got to see it at all. I know that it's not going to be 100% accurate, timeline wise. Some parts were probably over dramatised, some bits may have been left out entirely. The essence of it though, was still in it. I definitely could see the friendships in the movie. I could see HOW Tolkien wrote friendships so beautifully. Especially male friendships. I have always thought that he wrote beautifully healthy male relationships. After seeing this movie, I understood how.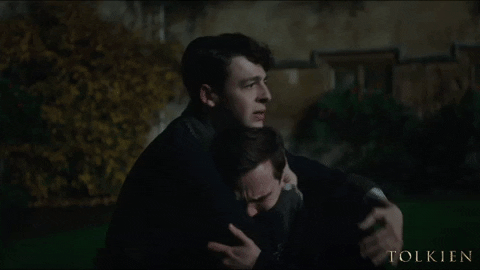 I would definitely give this movie 5 out of 5 stars. It also does not need to be seen in a cinema.