Is there anything more Magical than a Quokka?!
Would you look at that puddum?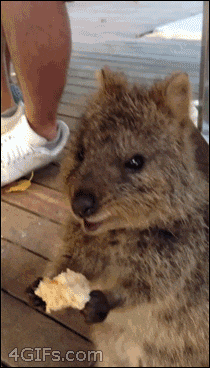 I am on Instagram and Instagram is becoming more and more animal wildlife exploitation aware…and it's fantastic!
Popular quokka selfie hashtag could be banned by instagram
The #quokkaselfie prompts an "Instagram Alert" that comes along with Instagram accounts that are suspected and confirmed of animal exploitation. (Think BJWT)
The quokka, the tiny marsupial native to a handful of islands off Western Australia – including WA Tourism jewel in the crown Rottnest Island.
This mean that Instagram believes that the photos you are viewing could be apart of wildlife exploitation…Now there are some "companies" who do do this (look up BJWT Corruption) and the warning comes up for the BJWT pages on Instagram, because they DO exploit animals…
However…
A spokesperson for the Rottnest Island Authority told The West Australian that the warning was "unhelpful".

"The Instagram block notice … does not serve to educate or inform the public about our conservation efforts or direct people to how they might develop a better understanding of this native species," he said.

"The RIA takes seriously its responsibility to protect the quokka population on the island and there are significant penalties for people who interfere with native flora and fauna."
Quokka's are well known for being extremely friendly and not being generally frightened of human beings. Which means there are a LOT of #quokkaselfie and they look like they are grinning…
So what do you all think? What is wildlife exploitation for you?