Write a new post in response to today's one-word prompt. Not sure how to participate? Here are the steps to get started.
When I watch people today…I wonder to myself…Why do people seem to think that their opinion is a fact? When they don't agree with that person, the other person's opinion is "invalid".
OPINIONS ARE NOT A FACT! EVER…NEVER EVER HAVE BEEN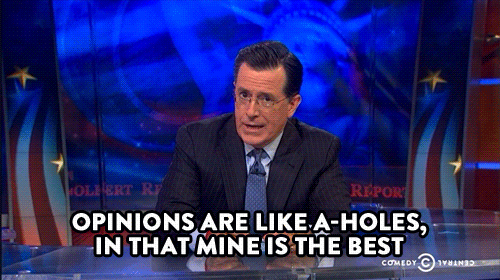 Every opinion is valid, because that's what they are…an opinion. You've looked at the facts and made an opinion about them. This is the thing about facts…A fact cannot be changed, how you perceive it though is an opinion. Human Beings have a tendency to do that a lot. Change a fact to suit themselves.
Take, for example, the whole Trump mess…How one thing is not okay for Hilary to do, but perfectly fine for Trump to do? Now the facts of that matter do not change, they both do something horrible, yet one is worse than the other?
Trump paying for sex with a hooker while his wife is nursing, is somehow better than Bill Clinton having consensual sex with Monica? Sure, to some and their opinion Clinton will always be worse. I do wonder if their partner did to them when Bill and Trump did to their wives, which one would they really think is worse?
#whataboutism
One person you like, doesn't mean that the person you don't like, doing the exact same thing makes only one of them worse…Same is Same…That is a fact!