So last month I made a post called Self Love Questions. When I went to look at the link again, I realised that there were 20 questions! I decided with that I was going to make a "Part 2"! Once again, please feel free to use these for yourself!
20 Journal Questions for Self-Love
11. Have you ever valued someone else's opinion over your own? Why? What would that situation have looked like if you put yourself first?
Oh I always value my Mums and my Grandmothers opinions over my own…Doesn't mean I always listen, or follow through with it…Even though sometimes I really should. I wouldn't be who I am though without them! Sometimes when I feel like I don't know what to do, they know me best and I can always talk to them about anything.
12. What type of person do you believe you are? What do you love about those characteristics?
Even though I've had some ex-friends recently go around saying I'm some horrible human being. I don't think that I am that at all. I think I am kind person, I don't go out of my way to hurt people. I'm pretty quiet, but stubborn when I believe it's something important. No matter how many times and over the years I've believed I've changed. I still always get INFJ for the Myers Briggs Test.
I love being me, every day I am beginning to realise how truly lucky I am to be me and to have the people around me that I do. There are a lot of actual horrible people out there.
13. Alan Watts said, "The most dangerous risk of all is the risk of spending your life not doing what you want on the bet you can buy yourself the freedom to do it later." What would you do in your life if you had the world at your fingertips?
I would probably be running my own side business to be perfectly honest. Even if I had won the lottery and/or didn't need to work anymore for whatever reason. I enjoy doing crafts and making things. I would have to be able to do it at my own pace of course. It's something I really want to do, but I am so frightened of doing it, and I don't even know where to start!
It's one of the things I want to look more into this year.
14. What does forgiveness mean? What do you need to forgive yourself for? How can you love yourself through the forgiveness process?
I believe that forgiving someone for yourself is loving yourself. I need to forgive myself though for being so hard on myself. Mentally I am going through a lot right now and it can get tiring one moment to the next. There's nothing wrong with that, there's nothing wrong with having a moment and then to get myself back together. As long as the moments become less, or I find some other way to cope with them. That is getting stronger.
15. Being mindful means paying attention to the present moment without judgment or analysis. How can you practice mindfulness in your life? How will mindfulness help you?
Oh this is something that I am always trying to do, to be more mindful of myself and others. I think it's just more about be aware that it's not always about you. Not everything affects people in the exact same way.
16. Where do you want to be in a year? Focus on feeling good while you write about your dreams. Focus on feeling happy and believing your dreams can become a reality.
I would love to have at least a permanent part-time job in another Library. Even though I was treated pretty shabbily by the one that cancelled my contract (while I was sick)…and no one told me. I still would love to work in a Library at least permanently part-time. Anxiety wise I want to be handle it better without taking any drugs, probably still using Vitamins though. I personally think they have been helping me a lot. I would love to be a little more social again as well. The last 6 months or so, I've been not feeling up to going out so much, especially crowded places. I guess mentally I want to be stronger again, and not so tired from these pills! … Hopefully engaged too!hehe =D
17. Schedule times throughout the day when you will give yourself a pat on the back. Tell yourself how good you're doing. Tell yourself how much you appreciate your hard work. Set alarms on your phone to remind you. At the end of the day, write down how each affirmation made you feel. Write down how each affirmation changed your mood or actions.
I think that I am going to do this for the next month…Starting from today and write about how that had gone.
18. What do you love about your life right now? Why do you love it?
I love it right now because in pretty much every single aspect of my life. Every place and everyone that was not supportive of me last year when for really the first time in my life, I actually needed support from others. They're gone. I'm just left with the people and places that were supporting me. How can you not love that?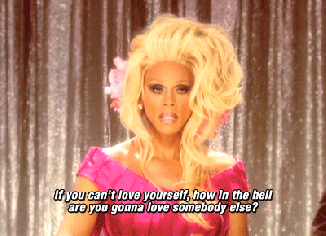 Can I get an AMEN!
19. What does imperfection mean to you? How can you learn to embrace imperfection in your life?
I am one of those "annoying" people. I honestly believe that everyone is perfect in their own way. We all make mistakes, we all do things we regret and I think all of us have at least one situation where we look back in hindsight. We are imperfectly perfect. The only time I think someone is imperfect is when they are cruel and horrible to other people, or if they torture animals. I just think something has to be "off" with people who do that. I can't honestly say that I could ever embrace those sort of people.
20. Is being selfish a negative thing or a positive thing? What if you believed that being focused on your feelings could be beneficial to your wellbeing? How would your life change?
Sometimes it can be a completely necessary thing! Sometimes you absolutely have to be selfish and take care of yourself first. It's also important to remember it's not always about you though. It's okay to have a "day off" from the world, we all need it to recharge so we can better help people. Just make sure you don't always have a "day off", if you know what I mean.